Liveaboard trips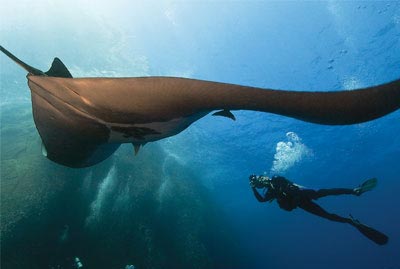 Socorro - giant mantas, sharks and dolphins - Socorro Adventure
Nowhere else in the world boasts giant mantas that literally seek out interaction with divers and snorkellers. The behaviour these mantas exhibit is almost inexplicable. These gentle giants with wingspans up to 20 feet consistently approach divers for intimate eye-to-eye encounters. If you are can remain calm and still in the water, you are almost sure to experience what we call "manta love." While mantas are the main reason to voyage out to Socorro, there are also: schooling hammerheads and silky sharks, plus 8 other species of sharks, bottlenose dolphins that regularly hang out with divers at some dive sites, large schools of pelagic fish, and, in season, humpback whales.
Dec 29, 2020 - Jan 06, 2021
9 days on the Nautilus Gallant Lady
12 berths available
USD $3995*
May 13 - 21, 2021
9 days on the Nautilus Gallant Lady
Only 2 berths left
USD $3950*
May 29 - Jun 08, 2021
11 days on the Nautilus Gallant Lady
8 berths available
USD $4950*
Dec 11 - 19, 2021
9 days on the Nautilus Gallant Lady
10 berths available
USD $3950*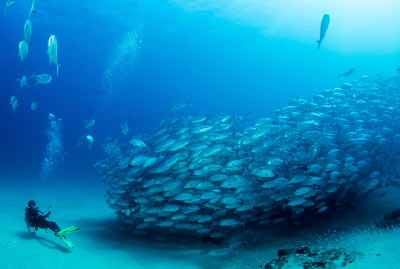 Sea of Cortez - Pulmo Bull Sharks - Cabo Pulmo
The southern Sea of Cortez offers the classic type of diving we remember from the old days. This area took a heavy hit form over fishing in the 1990s but with tight control and regulations by the government of Mexico the life has rebounded. It is once again possible to see schooling hammerheads, mantas, and all the life that the Sea of Cortez is famous for. We will be exploring the protected biosphere reserve UNESCO World Heritage site at Cabo Pulmo and resident population of bull sharks. Please be aware that diving in the park is tightly controlled. We will also be traveling further north to La Paz and old favourites like Cerralvo, La Reina, and Las Animas. These trips depart and return to Cabo san Lucas.
Oct 31 - Nov 05, 2020
6 days on the Nautilus Gallant Lady
5 berths available
USD $2495*
Nov 05 - 10, 2020
6 days on the Nautilus Gallant Lady
Only 2 berths left
USD $2495*
Nov 10 - 15, 2020
6 days on the Nautilus Gallant Lady
6 berths available
USD $2495*
Nov 05 - 10, 2021
6 days on the Nautilus Gallant Lady
12 berths available
USD $2495*
Oct 09 - 14, 2022
6 days on the Nautilus Gallant Lady
10 berths available
USD $2495*
* Trip Prices do not include taxes or a $65 per person port and park fee payable onboard in cash